Expert Collision Repair in West Harrison, IN
About Us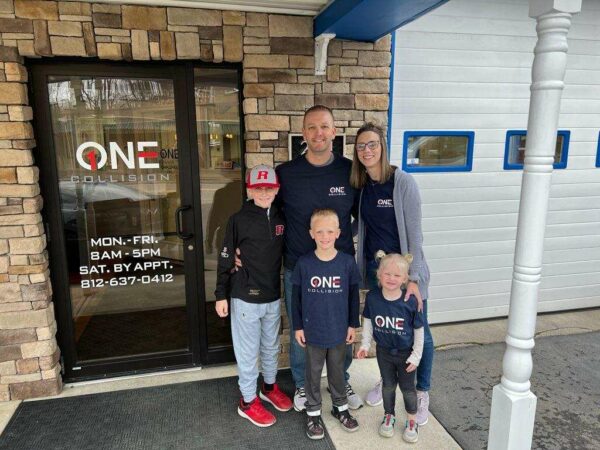 ONE Collision (formally known as Classic Auto Body) is owned by Joe and Erica Weast, originally from West Cincinnati, along with our children, Owen, Nolan, and Evelyn (The "O, N and E" that make up our name, ONE Collision. We are family-oriented, locally-minded, and want to offer expert auto body services to our customers.
 From complete collision repair to paintless dent repair, window tinting, and detailing packages, we want to be the ONE for you!
Lifetime Limited Warranty
We Work For You!
Our commitment to our customers is simple. We provide safe, high-quality auto body repairs. Our staff will guide you through the entire repair process and work directly with your insurance company. We want you to know that you do not have to go to the auto body shop that the insurance company recommends. You have the right to choose the collision repair shop you want.
Explore ONE Collision
West Harrison's Best Auto Body Shop
What Our Happy Customers Say
"I am thrilled with my 2011 Ford Explorer Repair. A Ford F 150 backed into my car while I was at my grandson's birthday celebration damaging the driver's side door in a few places. My car looks brand new again. Rocco and Joe are professional, knowledgeable, kind, and know how to make a car look awesome. They even deal with the insurance and rental place. I am so happy I chose to take my car to ONE Collision for repair! Thank you both!!"
"ONE Collision is a sponsor for my daughter's dance team. We attended their open house. They are good people that really went all out to provide the community with a fun event."
FREQUENTLY ASKED QUESTIONS
Do I need to get 3 estimates?
optimaadmin
2022-03-29T18:22:00+00:00
No, you do not need to get 3 estimates. Our estimator will perform a thorough estimate of your vehicle inside and out. We will go over the damage with you and the cost to repair it. It is your decision on which auto body shop to choose. We hope you choose One Collision.
Do you have loaner vehicles?
optimaadmin
2022-03-29T18:21:35+00:00
We do not have loaner vehicles available but we can help coordinate a rental vehicle with Enterprise.
Can I wait for my car to be repaired?
optimaadmin
2022-03-29T18:21:05+00:00
Yes, you are welcome to wait if your repairs are only going to take a few hours. For a longer repair process, we will keep you informed of your vehicle's progress throughout the steps. We are also available to answer questions about the insurance claims process.
Do you have towing?
optimaadmin
2022-03-29T18:27:28+00:00
Can I request an estimate online?
optimaadmin
2022-03-29T18:28:24+00:00
Yes, please fill out our estimate form on this website! We will be in touch to schedule your estimate appointment.